See on Scoop.it – Lessons in the Digital Age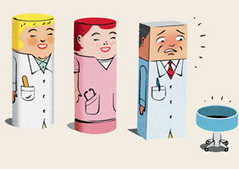 The majority of patients are interested in using online tools to help self-manage their health care, but not if it means sacrificing face time with their physicians to do so.
A survey of 1,100 U.S. patients by Accenture, a management consulting and technology services company, found that 90% of patients want tools such as online medical record access and appointments to self-manage their health care. But nearly the same percentage (85%) say they want to preserve their in-person interactions with their physicians when needed.
What this means is that patients want choices, said Kaveh Safavi, MD, managing director of Accenture's North America health industry group.
"They want the option to do some things on their own, but also the option to see a clinician when they want to see a clinician," he said.
"When we say self-manage, we are talking about a much broader notion than clinical visits," Dr. Safavi continued. Patients identify things they can do on their own schedules, when it's convenient to them, and things physicians do on their schedules. There are ways technology can allow those tasks to be accomplished without a coordination of both patient and physician schedules, he said.
There are also ways patients' online activities can supplement what happens in the office, said Julia Hallisy, DDS, founder of the Empowered Patient Coalition, a consumer advocacy organization. But physicians have to do their part to make sure their patients are engaged, she said.
The Accenture survey, conducted online from March 30 to April 4 and released June 20, found that while the majority of patients want online access to self-management tools, nearly half don't know whether their health records are available online.
Hallisy said this lack of awareness is due to patients not yet thinking about their empowerment in those terms. They view it as more of a concept at this point, she said.
When asked about technology and transparency, "patients know there is value and safety in those things. But the disconnect comes when we ask if they know what their role is," Hallisy said.
She said physicians can guide patients to take on tasks that will empower them and make their clinical visits more efficient. One example is having physicians tell patients that their medical records are online and asking them to review them before their next visit so they can discuss any concerns or questions. Or physicians can tell patients to look up their lab results so an informed discussion can take place. Setting specific challenges, such as asking patients to come up with a list of three things they want to talk about and following up on those challenges, will result in patients becoming more engaged.
"Technology means more than making appointments online," Hallisy said. "The ultimate value is when the patient is using the medical record as a tool."
See on www.ama-assn.org